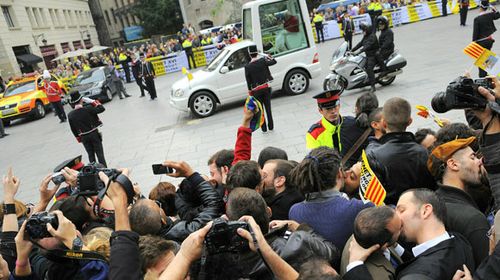 It happened today as the Pope drove by a large crowd in Barcelona in his "Popemobile." The 'kiss-in' was held to protest the homophobic stance of the Pope and Catholic Church. The CBC reports:
About 200 people protested against Pope Benedict XVI's visit to Barcelona, Spain, on Sunday by jeering and staging a gay "kiss-in." The protest by gays and lesbians took place as Benedict was being driven in his bullet-proof popemobile to celebrate mass at the city's iconic basilica, La Sagrada Familia (Holy Family).

The Pope did not react to the gay-kiss demonstration near the church, and the protesters were outnumbered by thousands of flag-waving supporters of the pontiff.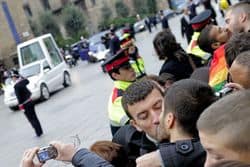 The LA Times describes what the Pope told those who were assembled inside of the basilica: "As he inaugurated the church's main altar, he railed against same-sex marriage and divorce, saying families are built on the 'indissoluble love of a man and a woman' who should be provided with financial and social benefits from governments. The pontiff also consecrated the building for use as a church in a colorful ceremony seldom seen performed by a pope."
Video of the protests by LGBT activists, AFTER THE JUMP.