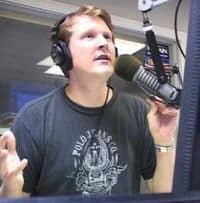 You'd be hard-pressed to find anyone not touched by Joel Burns' anti-bullying speech during a Fort Worth City Council meeting last month. But at least one person wasn't: KLIF radio jock Chris Krok. His reaction was the exact opposite, actually.
The day after Burns' plea to bullied LGBT youth, Krok took to the airwaves to bash him mocking the gay city councilman with a lisp, calling him selfish and playing down gay teen suicide by outrageously claiming that not one gay kid in Forth Worth has committed suicide. The DJ is also upset with the fact that Burns referred to his partner as husband and asks Burns to "stop lying" about being married.
Krok is exactly the kind of the bully that Burns is trying to protect LGBT youth from. Listen to the rant, AFTER THE JUMP.
The station's contact information is below:
Talk Radio 570 KLIF
3500 Maple Avenue 16th Floor
Dallas, TX 75219
214-526-2400
Program Director: paul@klif.com
Chris Krok Show: chris.Afternoons@cumulus.com