On election day, El Paso, Texas voters approved a referendum denying health benefits to unmarried partners of city employees.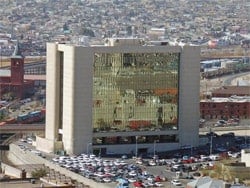 The City Council took up the measure yesterday and could have repealed it, but didn't:
"Council voted 4-3 in the controversial issue. Representatives Carl Robinson, Rachel Quintana, Eddie Holguin and Beto O'Rourke voted against rescinding the public referendum. Representatives Ann Morgan Lilly, Susie Byrd and Steve Ortega voted to vacate the ordinance that the public approved on November 2 in what some community members dub the "family values" benefits ordinance. Represenatives Emma Acosta was absent. The council voted to postpone any discussion on the matter for eight weeks. The ordinance that voters authorized by a 55-45 margin ends medical insurance benefits for 19 gay and unmarried partners of city employees. These workers have received taxpayer-funded coverage since the council implemented that policy at the beginning of the year."
"City Attorney Charlie McNabb had said the approved ordinance is so broad that about 200 people, including some city retirees, also will lose medical coverage as of Jan. 1."