The Des Moines Register reveals a new poll which shows the results, perhaps, of the damage done by insidious battering from anti-gay conservatives over marriage equality in the state.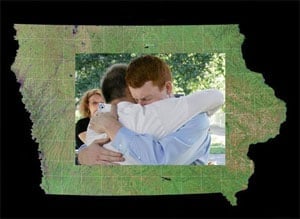 See the fuil results below.
If you've been reading this site, you know there's been  a big campaign underway in the state to oust three Supreme Court justices who approved marriage equality.
The Des Moines Register reports:
Thirty-seven percent of likely voters say they will vote to remove all three Iowa Supreme Court justices in Tuesday's election. Thirty-four percent say they will vote to keep all three, and 10 percent plan to retain some.
The poll shows movement toward the ouster of at least one justice, a result unseen in Iowa history since the merit-selection and retention process was adopted in 1962.
On the ballot are Chief Justice Marsha Ternus and Justices David Baker and Michael Streit, who were among seven justices who voted in the unanimous 2009 decision that allowed same-sex marriage, triggering a political uproar.
Retention votes on justices in Iowa are staggered. A justice's first retention vote comes in the general election at least one year after he or she is appointed to the bench. Afterward, justices face a retention vote every eight years.
We'll see what happens this evening.
Please join us at 6:30 pm for an election night liveblog where we'll be reporting and discussing results from races around the country.