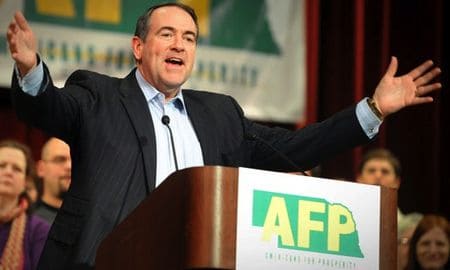 Mike Huckabee spent the day in Iowa today in an effort to court evangelical voters in that state for a likely presidential run in 2012. He spoke to reporters about the ouster of three state Supreme Court judges in this month's election and claimed that it was the beginning of a larger national movement.
"The significance and historic nature of the judicial elections here in Iowa were far bigger than the borders of Iowa," he said. "It was a very important statement that voters made, a statement that resonated across the country and one that I think will give legs to a larger movement over the next few years."

Huckabee spoke to more than 1,000 evangelicals gathered at a massive church in Des Moines. The gathering marked the merger of a series of evangelical groups into a single organization known as The Family Leader, to be headed by veteran activist Bob Vander Plaats.

The merged group likely will play a crucial role in Iowa's Republican politics, as the campaign for the state's precinct caucuses begins to warm. And the former Baptist minister Huckabee is moving quickly to court the activists.

"This is a group of people with whom I am very comfortable and familiar," he said.
Does this mean he's comfortable enough to again bring up what he refers to as the "ick factor?"
It looks as if Huckabee will most likely battle it out with Sarah Palin over the GOP nomination in 2012. He said, "Am I keeping the option open? Yes. Am I open to considering it? Of course I am, I would be foolish not to in light of what I've been through."
Said Huckabee about Palin: "She's got a very strong and important voice and has brought a lot of energy to the grass roots" and that "she may run away with it, and that's something everybody has to be prepared for."
Meanwhile, Palin herself will embark upon Iowa which some are referring to as "more than just a book signing."