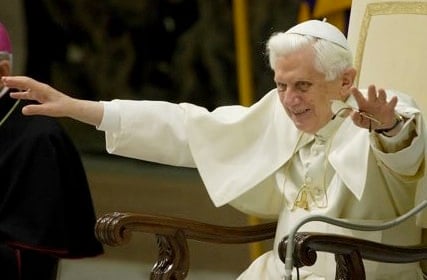 The Pope, who earlier this week clarified his new stance on condom use, has a new book out called "Light of the World: The Pope, the Church and the Signs of the Times." Not surprisingly, the book, which is formated as a series of interviews, is full of some of the same anti-gay views we've heard from him in the past:
The interviewer, German journalist Peter Seewald, asked the pope whether the church's teaching that homosexuals deserve respect isn't contradicted by its position that homosexual acts are "intrinsically disordered."

The pope answered: "No. It is one thing to say that they are human beings with their problems and their joys, that as human beings they deserve respect, even though they have this inclination, and must not be discriminated against because of it."

"At the same time, though, sexuality has an intrinsic meaning and direction, which is not homosexual," he said. "The meaning and direction of sexuality is to bring about the union of man and woman and, in this way, to give humanity posterity, children, a future."

The pope said the church needs to hold firm on this point, "even if it is not pleasing to our age."

He said it was still an open question whether homosexual inclinations are innate or arise early in life. In any case, he said, if these are strong inclinations, it represents "a great trial" for the homosexual.

"But this does not mean that homosexuality thereby becomes morally right. Rather, it remains contrary to the essence of what God originally willed," he said.
Meanwhile, some HIV workers have welcomed the Pope's recent views on condoms saying "It's long overdue because people are dying and the Church has a responsibility to step up and take care of its people."