The National Organization for Marriage (NOM) is whining because Rhode Island Governor-elect Lincoln Chafee won't entertain supporting a 2012 voter referendum on same-sex marriage and has reiterated his commitment to equality.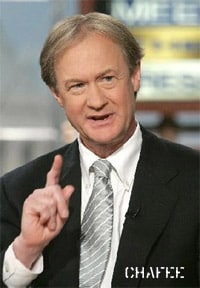 The Providence Journal reports that Christopher Plante, the head of NOM's Rhode Island chapter, paid a visit to Chafee's office:
Plante said he dropped by Chafee's transition office unannounced about two weeks ago, and came away from his conversation with aide Michael Trainor believing that the governor-elect was open to sitting down and talking with people on all sides of the gay-marriage debate.
Hence his "surprise" when he received a letter from Trainor, reaffirming the position that Chafee stated repeatedly through his campaign for governor over the last year. It said: "The governor elect feels that the issue should be addressed as soon as possible by the General Assembly, and does not believe that the question should be decided by a ballot referendum."
In his Nov. 16 letter to Plante, Trainor also reiterated Chafee's belief that: "Marriage equality is a basic right that should be extended to all Rhode Islanders — a question not only of fairness and justice, but of economic development as well."
"I was surprised," said Plante on Tuesday, "because Mr. Trainor indicated that he thought that Governor-elect Chafee would sit down at the table with all parties … I left there thinking that maybe we'll get a roundtable. We'll get 'Marriage Equality' … We'll get NOMRI to sit at the table and talk about how we are going to go forward on this … But what he has done is rejected our position out of hand."
Plante is clearly exasperated. The ProJo asked him why he thought Chafee would change his mind.
"What insanity got into my mind? That I have real and credible polling data that shows that 80 percent of Rhode Islanders want it on the ballot … And he was elected with — what? — 36 percent of the vote, fewer popular votes than (unsuccessful independent lieutenant governor candidate) Bob Healey got."
No doubt NOM will soon be pouring more millions of dollars toward the Rhode Island referendum.
And why hasn't NOM been classified as a hate group already?