(via Courage Campaign)
Protect Marriage, the group defending Proposition 8 in next week's upcoming hearing at the 9th Circuit Court of Appeals, has filed a motion, asking that Stephen Reinhardt, a judge whom conservative pundit Ed Whelan last week accused of being "the most aggressive liberal judicial activist in the nation," recuse himself from the case.
The AP reports: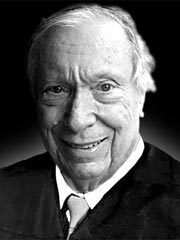 In papers filed with the 9th U.S. Circuit Court of Appeals in San Francisco, lawyers for Proposition 8's supporters said Judge Stephen Reinhardt's "impartiality might reasonably be questioned" because his wife heads the Southern California chapter of the American Civil Liberties Union.
In that role, the judge's wife, Ramona Ripston, has been an outspoken opponent of Proposition 8 and taken part in legal proceedings to overturn the voter-approved law, the lawyers said. They cited the friend of the court brief the ACLU filed on behalf of the plaintiff's in the case pending before her husband as an example.
"So long as a judge's impartiality might reasonably be questioned, recusal is required," they wrote in a motion asking Reinhardt to disqualify himself. "The facts of this case would plainly lead a reasonable person to conclude that Judge Reinhardt's impartiality might reasonably be questioned."
Write's NOM's Brian Brown: "Judge Reinhardt's wife, Ramona Ripston, has been involved in this case on numerous accounts, and what we've learned from Ed Whelan's highly informative Bench Memo yesterday, posted on National Review Online (and updated here) is that there is no way Judge Reinhardt can rightfully remain a member of this hearing without making a mockery of the federal judiciary. We are demanding that Judge Reinhardt to step down immediately and call Californians to write an official complaint to the Ninth Circuit demanding that Judge Reinhardt be disqualified."
Motion is posted, AFTER THE JUMP…