A Maryland Senate committee which has in the past killed marriage equality bills, no longer stands as an impediment, the Washington Post reports: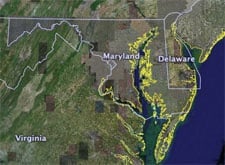 "Membership changes on the panel, where same-sex marriage bills have previously died, are among a handful of shifts produced by last month's elections. Collectively, they appear to have tipped the balance on the most high-profile social issue the General Assembly will consider during its upcoming 90-day session."
There are hurdles, however:
"If a same-sex marriage bill is approved, advocates on both sides say they expect opponents to take advantage of a provision in Maryland that allows residents to petition recently passed laws to the ballot. A successful signature drive would put the measure on hold, pending the results of a statewide referendum in November 2012. Support for ballot measures can be difficult to gauge this far out, but a Washington Post poll conducted in May found that 46 percent of Marylanders favored legalizing same-sex marriage, 44 percent opposed it and 10 percent had no opinion."
To follow news on marriage equality, check out our HUB. And "LIKE" it to follow updates on Facebook.