Imprisoned Wikileaks Private Bradley Manning, who has yet to be charged with a crime, has endured these cell conditions for seven months: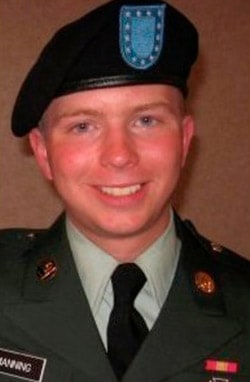 A typical day for Private Manning begins with being woken at 5am in the cell, which has a drinking fountain and a toilet. He is then allowed to put on his clothes, which he surrendered on going to bed the night before.
Under the rules, Private Manning is not allowed to sleep at any time between 5am and 8pm; if he does so, he is made to sit up or stand by the guards. He is allowed just one hour of exercise a day, even then not in the fresh air, but an empty room where he can walk in figures of eight. Any attempt by him to keep himself busy by, for example, doing press-ups, or sit-ups, is forbidden.
He is not allowed to associate with his fellow inmates and has never seen them, although he does occasionally hear their voices.
Private Manning is allowed to watch local television channels, for up to three hours on weekdays; sometimes more at weekends. But he does not have access to wider news coverage. He is allowed one book and one magazine at a time, from an approved list of 15, and is allowed approved visitors at prescribed times. Lt Col Coombes said the guards have, at all times, behaved correctly towards Private Manning. But, under the regulations, their conversations with him must be minimal.
The guards have to check every five minutes that Private Manning is ok, and he has to verbally confirm that he is alright. The same checks are continued during the night, and, if the guards cannot see Private Manning because he has pulled a blanket over his head (he is allowed blankets but not sheets or pillows) then they wake him up.
Although all evidence suggests that Bradley Manning fits the profile of a classic whistleblower, NBC is now tying his leaking of documents with anger over the military's 'DADT' policy, with no evidence to back up that claim.