A transgender woman in California has filed a claim for $25,000 against the Department of Motor Vehicles, claiming her civil rights and privacy were violated after the clerk who processed her application sent her a letter at home "calling her gender change a 'very evil decision' that would condemn her to hell," the AP's Lisa Leff reports: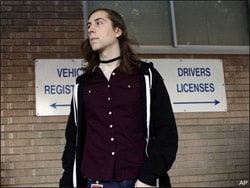 Amber Yust, 23, said the clerk at the department's San Francisco office processed her application for a license with her female name in October.
She received the letter addressed to her old name, David, four days later. It identified the writer as the person who processed Yust's application.
"Although I helped you with the name change, I have to say I do not support the reason for it," says the letter, signed with only a first name and typed on plain paper. "I also do not believe the state's recognition of it – through official documents – makes it legitimate or any less evil."
Yust alleges the clerk used a state database to find her home address. She said she also received a pamphlet from a New York-based conservative Catholic ministry to whom she thinks the DMV clerk furnished her address.
The DMV refused to comment, but said it has been investigating Yust's claim.