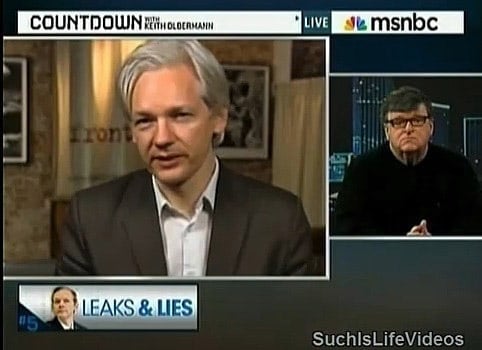 Michael Moore appeared on Countdown with Keith Olbermann last night, arguing for the release of Wikileaks founder Julian Assange.
Moore is assisting in posting bail for Assange, as are others: "Around half of the sum, which includes £200,000 in cash and two sureties of £20,000 each, has been found from the list of luvvies, lefties and 'internationally renowned' backers. They include an unnamed Government minister, a Nobel Prize winner, human rights campaigner Bianca Jagger and film-maker Michael Moore. Assange, 39, should be released once the figure is reached – but the Swedish authorities are appealing against the decision to give him bail. The Australian will appear at the High Court tomorrow, where a senior judge will consider the appeal and decide on his release."
Says Moore: "The lights in the room have been turned on…It's not the leaks that are killing anyone, it's the secrets that have killed people."
In related news, the Air Force has blocked the sites of several newspapers — "the Times, Guardian, Le Monde,Der Spiegel, and El País —and Foreign Policy's Wikileaks blog" — because they published diplomatic cables.
Watch, AFTER THE JUMP…