Sixty-one people have submitted applications to serve on the Iowa Supreme Court following last November's ousting of three judges by popular vote. The judges were rejected following a long campaign by right-wing religious groups and conservatives over the court's decision to legalize same-sex marriage in the state.
The Des Moines Register reports: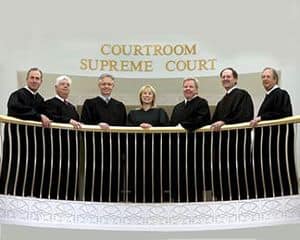 The judicial nominating commission will submit nine names as early as the end of January to Terry Branstad, who will be sworn in as governor on Friday. Branstad will have 30 days to select one justice for each seat, or else the decision falls to the court's chief justice.
The commission could have designated specific names for each seat, which might have forced Branstad to choose among three groups of three.
Boyd said the commission "looked at all the potential factors, and I think came to the conclusion that the best way to go about this was to submit one list of nine names and let the governor choose." Public interviews will start on Jan. 24 and are expected to last several days. Boyd said he hopes the commission can finish its work that week.
Some applicants have spoken publicly about gay marriage. University of Iowa law professor Angela Onwuachi-Willig signed a legal brief in favor of same-sex marriage rights when the landmark Varnum vs. Brien case was before the Iowa Supreme Court.
Another applicant appears to be in a gay marriage. Michael Keller, a 50-year-old workers' compensation and Social Security disability attorney, wrote a 2009 Des Moines Register op-ed article that praised the Supreme Court's gay marriage decision and its impact on him and his spouse, Robert.
Keller contended that the decision was the right one."For most of us, family is the most important thing in our lives," he wrote. "And it is what the gay marriage debate boils down to for most gay and lesbian Iowans. We, like most other Iowans, want to protect our families. That's it."
More applications are expected before the deadline on Friday.