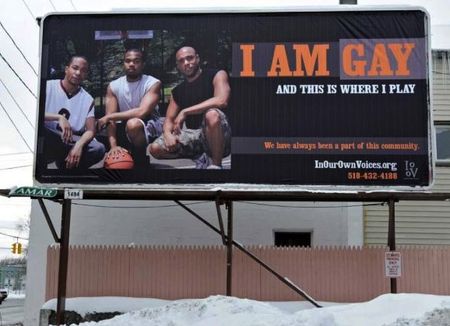 Several billboards put up in Schenectady, NY that target the gay African-American community have roused some residents in that city. The ads were funded by the LGBT group In Our Voices.
Tandra R. LaGrone, executive director of Albany-based In our Own Voices, said the group is sponsoring the awareness campaign because it is consistent with the mission of promoting the health and welfare of gay, lesbian, bisexual and transgendered people of color. "I thought it would be useful and pertinent to have the campaign in the Capital Region because of the numbers for HIV and AIDS among gay black males have has risen significantly," she said. "You have to start from a place of respect in order to address the stigma and homophobia of being a black gay man."
The most vocal critics have been leaders of local churches, who have obviously not yet overcome their own homophobia.
Pastor Richard Parsons of Consecration Temple Church of God Christ complained to the Times Union: "It's directly against God's word and what God hates, I hate."
Rev. Alfred Thompkins of Calvary Tabernacle told the Daily Gazette: "A thirteen-year-old looks at these billboards and says, 'That must be it, I must be gay.' That goes directly against God's purpose. As a resident of Schenectady, a pastor who works with young people, with families, frankly I'm really bothered by the message these send."
A couple more billboards, AFTER THE JUMP.