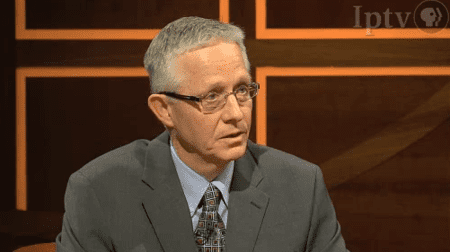 On last night's episode of "Iowa Press," Iowa Supreme Court Chief Justice Mark Cady was asked by the program's interviewer if he regretted bringing marriage equality to the state in 2009.
"Absolutely not. That decision was crafted with all of the energy, all of the strength — everything that we do as judges is in that opinion," Cady said. "Everything that Iowa is about is in that opinion." According to Cady, the uproar will not deter the court from taking other controversial cases.

"Judges accept that as their role in society," Cady said. "Even a judge that makes a ruling in a criminal case that may result in the suppression of evidence may not be a popular decision, but judges make their decisions based upon the rule of law and that's what their duty is and that's the importance and the strength of all of our government."

Critics of the court's ruling on same-sex marriage said Cady was "arrogant" when he delivered a formal speech to legislators this past Wednesday and had "poured gasoline" on the effort to impeach Cady and the three justices who remain on the court.

"I understand how there are differing views that may give rise to speech like that," Cady said. "But as I said also in the speech isthat I think it's time for all of us to get to know each other a little bit better."
He went on to comment on the aftermath of last fall's ouster of those three judges who also voted to bring marriage equality to Iowa: "To see empty offices even now is a stark, sad reminder that we've lost three colleagues that were extremely devoted, dedicated people that served this state proudly."
Earlier this month, GOP Iowa Governor-Elect Terry Branstad said that while he doesn't support impeachment of the remaining four judges, he does suggest voting them out when they are up for retention. Meanwhile those four judges  resumed hearing cases this past Thursday for the first time since their colleagues were ousted.
Watch the full video of Cady's "Iowa Press" interview on Iowa Public Television's site.