Over the weekend, Steve reported on some changes being made to U.S. Passport applications which would have removed "mother" and father" and designated them as 'Parent 1' and 'Parent 2'. The move inspired outrage from hate groups like the Family Research Council.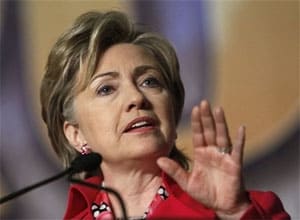 Now, word comes that they're being amended yet again, per Hillary Clinton's instructions:
The State Department said Saturday that Clinton had instructed the department to retain "mother" and "father" in passport applications as well as in a form known as a "Consular Report of Birth Abroad" that U.S. embassies use to document the birth of a child to expatriate Americans. It said the forms will now ask for the names of the child's "mother or parent 1" and "father or parent 2."
Gay and lesbian groups had applauded the initial change, which was announced with little fanfare in late December. But conservative groups criticized it as an attack on traditional marriage and family values.
State Department spokesman P.J. Crowley "said her decision would ensure that the documents are as inclusive and informative as possible."