Following the rejection by the Supreme Court last week of an appeal by same-sex marriage opponents to allow a referendum vote on D.C.'s recently enacted marriage equality law, House Republicans will push for a vote on it, according to one committee member.
The Hill reports: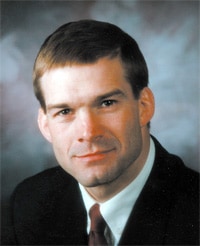 Rep. Jim Jordan (R-Ohio), chairman of the conservative Republican Study Committee (RSC), told The Hill that he will push for a vote on the controversial issue in the 112th Congress. The RSC has 175 members. 
"I think RSC will push for it, and I'm certainly strongly for it. I don't know if we've made a decision if I'll do it or let another member do it, but I'm 100 percent for it," Jordan said.
In the last Congress, Jordan was the lead sponsor on the D.C. Defense of Marriage Act. The bill was introduced after the D.C. City Council and then-Mayor Adrian Fenty indicated they would recognize same-sex marriages. 
Jordan was one of the lawmakers who added his name to a legal brief filed by marriage equality foes challenging the D.C. Board of Elections refusal to allow a ballot measure on the issue.