A resolution to amend Iowa's constitution to prohibit same-sex marriage was advanced by the state's House Judiciary Committee yesterday, the Des Moines Register reports: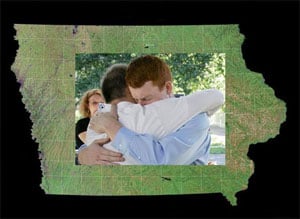 The vote was 13-8, with Rep. Kurt Swaim, a Bloomfield lawyer, the only Democrat to join Republicans in supporting it. The resolution is now eligible for debate by the full House. The amendment would not only prohibit same-sex marriages but also would deny state recognition to arrangements such as civil unions and domestic partnerships.
That prospect raises deep constitutional questions and almost certainly ensures that the measure, if approved, would be headed for the U.S. Supreme Court, Drake University constitutional law scholar Mark Kende said Monday.
A public hearing is scheduled for next week before the measure is expected to pass the House. Thankfully, the measure faces opposition in the Senate, where Majority Leader Mike Gronstal has vowed to block any vote on an amendment that would ban same-sex marriage.