Wikileaks soldier Bradley Manning is seeking release from pretrial confinement.
According to a blog post from the offices of his Attorney David E. Coombs: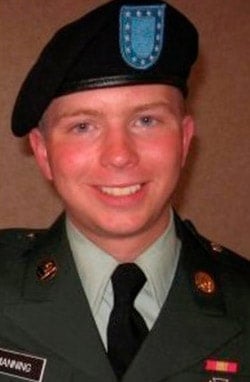 The defense has raised its objection to the documented confinement conditions of PFC Bradley Manning on multiple occasions with the Quantico confinement facility and the Staff Judge Advocate's (SJA) Office.  On 5 January 2011, the defense filed a formal complaint with the commander of the Quantico Brig.  On the same day, PFC Manning also filed a formal complaint through the confinement grievance process. Both complaints requested that the confinement facility remove PFC Manning from Prevention of Injury (POI) watch and that his classification level be reduced from "Maximum" to "Medium Detention In."  The confinement facility did not respond to either complaint.     
Due to the lack of response from the confinement facility, the defense, pursuant to the provisions of Rule for Courts-Martial (R.C.M.) 305(g), filed a request earlier today with the Garrison Commander to direct the release of PFC Bradley Manning from pretrial confinement.  This request is based upon the fact that the confinement conditions currently being endured by PFC Manning are more rigorous than necessary to guarantee his presence at trial, and that the concerns raised by the government at the time of pretrial confinement are no longer applicable.  Further steps to address PFC Manning's confinement conditions will be taken, if necessary.
(via josh gerstein)
Also, Wired Threat Level reports:
WikiLeaks has finally made good on a months-old pledge to contribute financially to the defense of 23-year-old Bradley Manning, according to a group raising money for the imprisoned Army private suspected of providing WikiLeaks its most important U.S. releases.
But the sum, $15,100, is less than half the $50,000 WikiLeaks originally promised. It's also less than the group pledged in December, when WikiLeaks spokesman Kristinn Hrafnsson said WikiLeaks would immediately transfer $20,000 to Manning's defense fund.
The Bradley Manning Support Network, which expressed frustration last month that it had not received the promised pledge, praised WikiLeaks' contribution Thursday. 
A good deal of attention has been given to the conditions of Private Manning, and much of it suggests that the conditions are an effort by the government to persuade Manning to name Wikileaks Julian Assange as a conspirator in order to nail him on espionage charges.