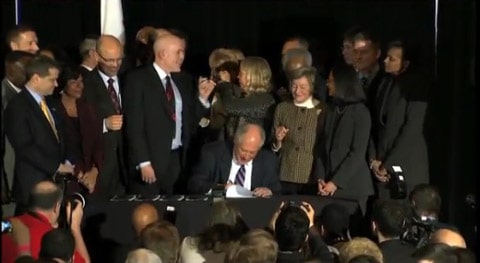 Illinois governor Pat Quinn signed Illinois' civil union bill into law late this afternoon.
Watch Quinn speak and sign the bill, AFTER THE JUMP…
"Here we are in 2011 on the eve of Abraham Lincoln's 202nd birthday and I think this is very special," Quinn said as 20 politicians joined him on stage and hundreds of supporters packed a hall in the Chicago Cultural Center. "We believe in civil rights and we believe in civil unions."
With the move, Illinois joins five other states and the District of Columbia in establishing statewide laws to provide the equivalent of state-level spousal rights to same sex couples.
The new law provides more than 650 spousal benefits and protections.
"If you enter a civil union, you can now visit your loved one in the hospital to make medical decisions and not be turned away. You can take time off to care for your partner and not lose your job," Attorney General Lisa Madigan said. "You can build and protect your family.
"This legislation represents a giant step toward equality."
The law takes effect June 1.
Watch Quinn speak and sign the bill, AFTER THE JUMP…