Ari Ezra Waldman is a 2002 graduate of Harvard College and a 2005 graduate of Harvard Law School. After practicing in New York for five years and clerking at a federal appellate court in Washington, D.C., Ari is now on the faculty at California Western School of Law in San Diego, California. His areas of expertise are criminal law, criminal procedure, LGBT law and law and economics. Ari will be writing weekly posts on law and various LGBT issues. 
Follow Ari on Twitter at @ariezrawaldman.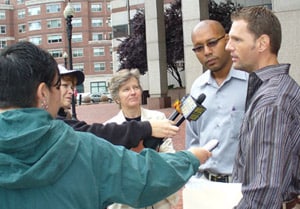 At your behest, dear Reader, I would like to offer a few more perspectives on the recent Department of Justice (DOJ) brief that defended the constitutionality of the Defense of Marriage Act (DOMA) in Gill v. OPM and Massachusetts v. HHS. It is my hope that this series of posts will deepen our understanding of these cases, allow us to distinguish between what is and what is not at issue here and foster an extensive dialogue on one of the major fronts in our fight for equality. I also urge you to seek out other analyses, as my thoughts are no more the final word on these matters than anyone else's.
Today, I would like to flesh out the rational basis test and discuss why this highly deferential test — one that permits evident discrimination in legislation if there is some rational connection between the discrimination and a valid government objective — is the standard used in this case, as opposed to some heightened level of scrutiny that would make it easier to strike down DOMA. My argument is that while rational basis review may make overturning DOMA difficult, it is both prudent and, in the long run, beneficial to our quest for equality.
Continue reading "The DOMA Case — Why Rational Basis" AFTER THE JUMP…
Rational basis review is the most deferential standard of review that federal courts use to evaluate the constitutionality of legislation when challenged on due process or equal protection grounds. (I decline to go too far into what the frak (substantive) due process means because most lawyers, law students and law professors have no idea! But, equal protection is pretty self-explanatory). Here's how it works: A given law discriminates, or "classifies" or treats different groups of people differently. A pretty bad discriminatory law would be one that gives everyone the right to a job except Jewish lawyers. A more innocuous discriminatory law is one that denies the right to vote to everyone under the age of 18. This is a key point: Just because a law discriminates — voting age laws clearly discriminate against young people — does not mean that discrimination is unconstitutional. It may be a valid "classification" that serves a government interest.
Notably, the anti-Jewish lawyer law would get a version of heightened scrutiny called "strict scrutiny". This means that in order to justify this clearly unequal treatment of Jewish lawyers, the government would have to argue that the law is "narrowly tailored to meet a compelling government interest". The law must also be the "least restrictive means" to achieve the government interest, but while many courts separate out this requirement, it is thought to be quite similar to the narrow tailoring element. In other words, the law must do as little damage to equality as possible in the name of a really important government objective.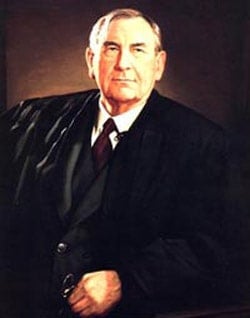 Anti-Jewish discrimination, like discrimination on the basis of race or national origin, for example, is one of those categories of discrimination fraught with a long and terrible history and one of those categories listed in a footnote to a famous New Deal era Supreme Court case (written by Justice Harlan Stone, pictured) — Carolene Products — that said that when laws discriminate in these areas, the government has a higher burden to show why it must do something so seemingly anathematic to our way of life.
What kids of discrimination are not listed as so-called "suspect classifications" in the footnote? Many! Discrimination on the basis of age, socio-economic status, gender and, for our purposes, sexual orientation. Because they are not listed in Carolene Products, these categories get lower standards of review. Notably, in part because of the women's rights work of Justice Ruth Bader Ginsburg, discrimination on the basis of gender gets "intermediate scrutiny," which, as you may have guessed, reviews laws that discriminate against women through a lens somewhere in between strict scrutiny and rational basis.
All of this is pretty undefined, flexible and strange. You may wonder why discrimination against African Americans or women is any worse than discrimination against gays, and you would be right to note that the different levels of scrutiny imply that our judicial system attaches different levels of gravity to different types of discrimination. As it should! There are forms of discrimination that are innocuous or even necessary — we probably do not want 10 year olds voting or holding office — and there are forms of discrimination that are contrary to who we are as a nation.
One could argue that discrimination on the basis of religion — one main reason why the Puritans left England and why insufficiently puritanical Christians settled and created Rhode Island and why Catholics needed a haven in the colony of Maryland — and discrimination on the basis of race — given this country's devastating history of slavery — and discrimination on the basis of national origin — rampant in places like New York where employers simply said "Irish need not apply" — are qualitatively different than other forms of discrimination not so rooted in history. We can debate that at length, but for now, perhaps this illustrates why courts are more skeptical of some discrimination than others.
Then why no strict scrutiny for discrimination on the basis of sexual orientation? Why indeed, especially since such discrimination is firmly rooted in history, no less so than discrimination against Jews or the Irish or those with different color skin. And, in fact, there have been a number of courts that have held that discrimination on the basis of sexual orientation deserves some level of heightened scrutiny. In Witt v. Department of the Air Force, a challenge to "Don't Ask, Don't Tell", for example, the Ninth Circuit looked through the Supreme Court's opinion in Lawrence v. Texas, which overturned Texas's anti-gay sodomy law, and concluded that despite words to the contrary, the Court actually used intermediate scrutiny to judge DADT's effect on due process rights. Again, we can debate the point — and it was a highly dubious conclusion — but suffice it to say that not everyone is on the rational basis band wagon when it comes to sexual orientation discrimination. In the states, Connecticut and Iowa referred to heightened scrutiny when they allowed gays and lesbians to marry because, at a minimum, gays are a "quasi-suspect class."
Some constitutional scholars have argued that the Supreme Court has created a special category of review for sexual orientation discrimination, something awkwardly called "rational basis plus." That is how Romer v. Evans and Lawrence v. Texas came out the way they did, the argument goes. This appears to be a way of distinguishing between rational basis review in the economic world — where, at least until the Roberts Court — much Congressional economic regulation made it through with ease — and the version of rational basis review that some have called "more searching" when it comes to laws that discriminate against gays. This "rational basis plus" is taught to law students today, but I find the evidence lacking. Rational basis review was never meant to mean no review, and even economic regulation cases get some scrutiny. The discriminatory law still must be rationally related to a legitimate government objective. There are three requirements there: it must be (1) rational, the discrimination must be (2) related to a (3) legitimate government objective. Those determinations may constitute a low hurdle, but it is a hurdle nonetheless.
In any event, courts are loathe to expand the realm of suspect classes for a few reasons. First, another suspect class is just another way for courts to take away power from the legislature. For every group that merits a searching judicial review, the legislature's power to make laws is that much more subservient to the judiciary's view of what's right. While you may think discrimination is problematic regardless of the legislature's prerogative, our system is hesitant to wrest control away from one coequal branch of government and especially the people's representatives.
Second, these "suspect classifications" are judicial creations, buried in a footnote, of a then-growing progressive judicial majority. They are judge-made rules that have no basis on statute or common law, which make them especially dubious to conservative legal scholars.
Third, historians will tell you that certain types of discrimination have had a greater impact on American history than others. Regardless of how unfair it may sound, a reasonable argument can be made that discrimination on the basis of race has played a more devastating role in our history than discrimination on the basis of sexual orientation.
Fourth, with respect to this case, DOMA's one-man-one-woman marriage definition does not deny anyone a marriage license, but rather only discriminates with respect to the provision of federal benefits. Given Congress's extensive power in allocating benefits it creates, discriminatory policies on who gets what federal benefits has long been considered Congress's realm, thus meriting a highly deferential standard of review from the judiciary.
And, for better or for worse, the as-applied challenge to DOMA in Gill, for example, is all about getting federal benefits for couples legally married in a marriage equality state. Seen through this lens, we should begin to understand why these cases get the highly deferential rational basis review.
Of course, many gay rights advocates will argue that laws that discriminate against gays require heightened review because of the long history of animus toward gays, the immutable nature of sexual orientation and the powerlessness of gays in the legislative sphere. But, that argument has yet to win the day, except in a few cases. In fact, many progressive decisions on gay rights issues — Perry v. Schwarzenegger, for example — have two sections — one that argues that gays deserve heightened scrutiny and one that argues that even under rational basis review, a given discriminatory law fails to pass constitutional muster.
That may make it harder for us to win equality before the law, but it may make our victories more lasting and meaningful. Many of us cringe every time the law treats us as victims, granting us protections or rights because of a history of discrimination rather than because discriminating against gays is simply irrational. I do not want my equal rights contingent on bad things that happened to my gay ancestors. I want judges, Congress and our society to recognize that my rights exist independent of heterosexual majority's victimization of its gay minority, i.e., that discrimination against gays was always unconstitutional, not unconstitutional now simply because past discrimination merited a more searching form of judicial review.