Lots of anti-gay legislative news has come out of Wyoming this month. The bad news continued this past Friday when bills that would introduce marriage equality and legalize civil unions died at The House Judiciary Committee.
The Wyoming Tribune Eagle reports: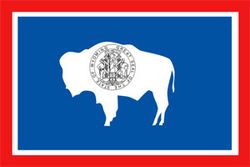 "The House Judiciary Committee split 5-4 on whether the rights and protections of marriage should be expanded to civil unions. Supporters argued that House Bill 150 is a practical solution for a state that doesn't recognize common-law unions. Opponents countered that the bill represents a slippery slope toward legitimizing homosexual marriages. Meanwhile, the proposal in House Bill 149 to redefine marriage as a union between two natural persons instead of one man and one woman died for lack of a motion."
"Couples living together as spouses shouldn't be treated as single individuals under the law, said Laramie resident Will Welch. He added that tradition is a weak argument to block either proposal when things like slavery and racism were once considered tradition. Either bill would recognize the right to be in a valid, loving relationship, said Joe Corrigan, a Cheyenne resident and chairman of Wyoming Equality, an advocacy group for lesbian, gay, bisexual and transgender individuals."
But even before all of that: late last week the House approved a bill prohibiting recognition of out of state same-sex marriages and civil unions.