Last year, U.S. District Court Judge Virginia A. Phillips declared the military's "don't ask, don't tell" policy unconstitutional and barred the military from enforcing it. Late yesterday, the 9th U.S. Circuit Court of Appeals in San Francisco ordered the Department of Justice to file papers by the end of February that argues why they believe the court should overturn Phillips' ruling.
As you know, just yesterday it was revealed that Defense Secretary Robert Gates wants a training plan for DADT repeal implemenatiion by February 4th.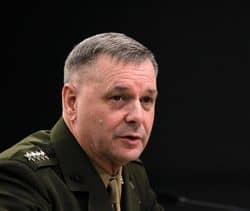 The AP reports:
"Government lawyers asked the 9th Circuit earlier this month to set aside the case because the Pentagon was moving quickly to satisfy the steps Congress outlined last month when it voted to allow the ban's repeal. A Justice Department spokeswoman said it had no comment Saturday. The appeals court did not explain in its order why it rejected the request. In his State of the Union address, President Barack Obama said he expected to finalize the repeal and allow openly gay Americans to join the armed forces before the end of the year."
"On Friday, the vice chairman of the Joint Chiefs of Staff told reporters that the training of officers and troops the Pentagon has said is a predicate to full repeal would begin in February. The Log Cabin Republicans, the gay political group whose lawsuit challenging 'don't ask, don't tell' persuaded District Court Judge Virginia Phillips in September to enjoin the military from enforcing the policy, had opposed the government's effort to put the case on hold."
"R. Clarke Cooper, the group's president, said Saturday that while he thinks the Pentagon's efforts are sincere, the case should proceed as long as gay servicemembers still can be discharged. 'We said all along to the government we would drop our case if they would cease all discharges and remove all barriers to open service,' Cooper said."
Read a copy of the short order, AFTER THE JUMP.