Legislation related to an anti-gay marriage amendment has been filed in the North Carolina senate.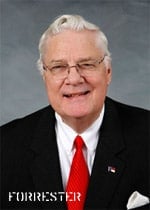 Qnotes reports:
Gaston County Sen. James Forrester filed on Tuesday his anti-LGBT constitutional amendment on marriage.
The text of the proposed amendment, which has not yet been filed in the House, would ban any recognition of any "domestic legal union" other than a marriage between an opposite-sex couple. If approved by the legislature, the amendment would appear on the November 2012 ballot. Three-fifths of both the House and Senate must approve the amendment before it can appear on the ballot; the governor has no veto authority on amendments.
Forrester was joined as sponsor by "Jerry W. Tillman (R-Montgomery, Randolph) and Dan Soucek (R-Alexander, Ashe, Watauga, Wilkes). Twenty other senators, all Republican, are co-sponsoring the bill."
Equality North Carolina tweets that "Anti-gay SB 106 is most extreme version possible. Could even prevent businesses from offering partner health coverage!"
Pam Spaulding, whose home state is North Carolina, has vowed to expose the hypocrites.