A group of gay football fans in Poland have requested a special section of seating for fears of violence and harassment, the AP reports: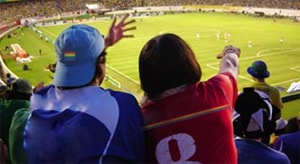 Teczowa Trybuna 2012, or Rainbow Stand 2012, calls itself the first gay fan club for Poland's national team. It says on its website that its members fear aggression from other fans and want to feel safe during the championship in Poland and neighboring Ukraine.
"During trips to matches of our beloved clubs … we unfortunately are often faced with unpleasantness, harassment and violence from the 'real' fans," it said. "We dream of being able to relax in the stands — we can't imagine not being at the Euro 2012 matches, which will be held in our country!"
Other gay rights groups in Poland are distancing themselves from the group's request, saying it would stigmatize them and only draw attention to the difference:
Gregory Czarnecki of the Campaign Against Homophobia, a leading gay rights group in Warsaw, said he believes that very few gays and lesbians would willingly choose separate seating.
"I understand their initiative, and what they are trying to do," Czarnecki told The Associated Press.
"But the message might be counterproductive in Poland," he said. "I don't think many people would be brave enough to not only come out, but also to sit in this section."