Maryland's Lieutenant Governor Anthony Brown tells the Washington Blade he hopes lawmakers will approve a marriage equality bill pending in the legislature: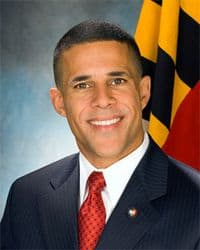 LGBT activists believe Brown, a Prince George's County Democrat who is considered a potential candidate for governor in 2014, could play a key role in defending the marriage bill against a voter referendum in 2012 if the legislature passes it this year, as most political observers expect.
"I have always believed that all Marylanders should have an equality of rights and responsibilities and that includes marriage equality," he said in an exclusive interview.
"So regardless of gender, we should be able to choose who it is that we are going to marry and hopefully spend the rest of our lives with. And so I'm supportive of that," he said.
Brown said he has friends and acquaintances who are in same-sex relationships and he has seen first-hand how they are "successfully raising children," a development that has helped shape his views on the marriage issue.
Maryland governor Martin O'Malley has indicated that he would sign a marriage equality bill should it arrive on his desk.