Massachusetts Governor Deval Patrick signed an executive order yesterday protecting transgender state workers from discrimination, the Boston Globe reports: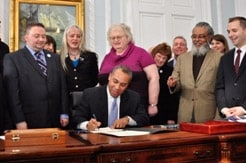 Patrick signed the order in a private ceremony in his office attended by advocates and several transgender state employees. He did not list the event on his public schedule or send out a press release afterward.
The order expands the state's current civil rights policy by forbidding state government and its contractors from discriminating on the basis of "gender identity or expression.'' The state already forbids discrimination based on a host of other characteristics, including race, gender, ethnicity, sexual orientation, disability, and religion.
Patrick said he signed the order after being asked to do so by advocates.
Said MassEquality Executive Director Kara Suffredini in a statement released by The Transgender Equal Rights Coalition: "Governor Patrick is a true champion for the LGBT community, and we applaud the critical first step he has taken with this order toward creating a Commonwealth where all hardworking people, including transgender people, have the opportunity to make a living and provide for themselves and their families." 
More reactions at Bay Windows…