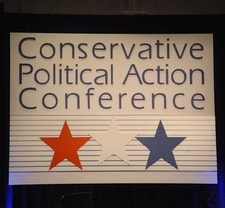 The gay conservatives of GOProud shouldn't get too comfortable at CPAC, because the newly selected chair of the American Conservative Union, which organizes the right wing gathering, has already started distancing himself from the group.
Al Cardenas, who replaced David Keene as Chair of the ACU this week, sat down for an interview with FrumForum today and lamented GOProud's public quarrels with anti-gay conservative groups, such as Family Research Council and the Heritage Foundation.
I have been disappointed with their website and their quotes in the media, taunting organizations that are respected in our movement and part of our movement, and that's not acceptable. And that puts them in a difficult light in terms of how I view things.
 Cardenas went on to say that it would be "difficult" for his organization to keep working with GOProud "because of their behavior and attitude."
Cardenas' comments were in direct response to an interview Christopher Barron, the Chairman of GOProud's board, and Jimmy LaSalvia, the group's executive director, did with LGBT publication Metro Weekly, in which Barron blamed ACU Foundation chairman Cleta Mitchell for divisive arguments among the conservative camp.
Read more about GOProud's tenuous relationship with CPAC, AFTER THE JUMP…
"I think there's a couple people in Heritage who, at the behest of Cleta Mitchell – who is just a nasty bigot … she got some of the people at Heritage early on fired up about this," Barron said in the interview, which was published this week.
Barron has since apologized, telling FrumForum, "For the past six months, we have watched as unfair and untrue attacks have been leveled against our organization, our allies, our friends and sometimes even their families."
He continued, "Everyone has their breaking point and clearly in my interview with Metro Weekly I had reached mine. I shouldn't have used the language that I did to describe Cleta Mitchell and for that I apologize."
An apology may not be good enough to sooth over tensions, though, because Cardenas doesn't seem that into the idea of gay inclusion, anyway.
"[Keene] invited these folks in an effort to be inclusive," Cardenas explained."Having friends of ours leaving… presents difficulties to me. There's always going to be some tension, [but] there should never be any tension between time-tested values."
Cardenas also insisted true blue conservatives can't support marriage equality: "Not a Ronald Reagan conservative… I will say this: we adopted a resolution unanimously at ACU advocating traditional marriage between a man and a woman, so that answers how we feel on the issue."
If Cardenas has already come out against GOProud, their future relationship with CPAC looks pretty grim.