The National Organization for Marriage has lost a legal battle in Maine, The Kennebec Journal reports: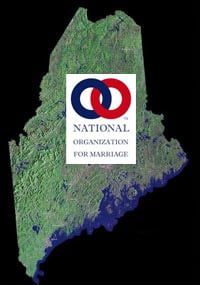 U.S. District Court Judge D. Brock Hornby rejected arguments made by the National Organization for Marriage, which contributed about $1.9 million to a Maine group that helped repeal Maine's law allowing same-sex marriage in 2009, that the reporting law was vague and overly broad.
"I conclude finally that this Maine law is constitutional," Hornby wrote in his 22-page decision handed down late Friday.
NOM had challenged Maine's campaign finance law, which requires groups that raise, or spend, more than $5,000 to influence elections to register with the state and disclose donors who make contributions of $100 or more.
Jonathan Wayne, executive director of the Maine Commission on Governmental Ethics and Election Practices, praised the decision.
"This is an important law because it allows Maine voters to know who is trying to influence them with respect to ballot questions," he said. "It is a good decision for transparency in politics."
It's not clear whether NOM will appeal.