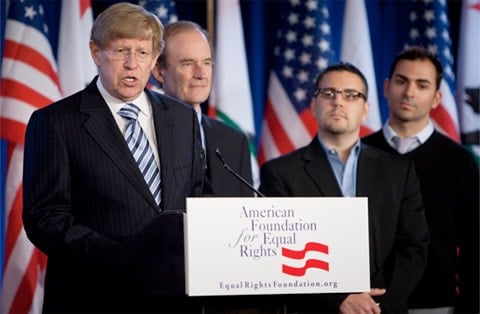 At around the same time the DOMA news broke yesterday, American Foundation for Equal Rights Ted Olson and David Boies, who are representing the plaintiffs in the federal challenge to Proposition 8, announced that they had filed a motion asking the 9th Circuit Court of Appeals to allow same-sex marriages to resume in California, as well as a petition to the California Supreme Court asking them to further expedite proceedings in that case.
Olson, Boies, and AFER Chair Chad Griffin held a conference call with journalists to discuss the filings, and, because of the timing, were also able to comment on what effect the DOMA announcement might have on their case, and others around the country.
Listen to the entire conference call, AFTER THE JUMP…
It's long but it's extremely informative.
AFER Press Conference Call – February 23, 2011 from American Foundation for Equal Ri on Vimeo.