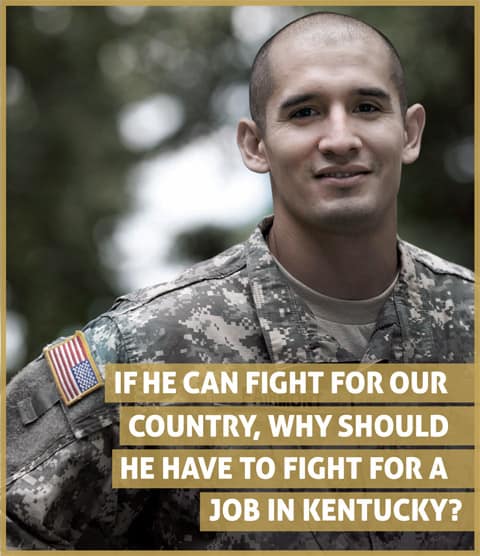 The Courier-Journal reports on a new survey showing growing support for anti-discrimination laws that protect LGBT people:
More than 83 percent of Kentuckians believe that gay and transgender people should be protected from discrimination in the workplace, in housing and public accommodations such as restaurants, according to a new statewide survey released Monday.
The survey of 600 registered voters was commissioned by the Fairness Coalition, an organization of five groups including the ACLU, The Fairness Campaign and the Kentucky Commission on Human Rights. The protection from discrimination finding marked an increase from 2004, when 65 percent said they supported such protections.
Coalition leaders said they hoped the results would prod state lawmakers to approve — or at least debate — two General Assembly bills that would add legal protections for gay and transgender people by amending the state's civil rights laws.
The Fairness Coalition, which commissioned the study, is set to launch a public education advertising campaign, and a lobby day on February 23 at the state capitol.
Read the survey here (PDF).
In related new, proposed legislation in Tennessee would prohibit local municipalities from enacting their own non-discrimination statues and would force them to rely on state law:
Conservative state Rep. Glen Casada kept his promise and filed a bill Monday that would bar local governments from enacting their own nondiscrimination policies. Instead, Tennessee's municipalities would have to rely on state policy, which mirrors the federal Civil Rights Act and does not include protections on the basis of sexual orientation or gender identity.