Rhode Island Representative Jon Brien is submitting a bill today that would approve a referendum question for the 2012 ballot allowing voters to decide on a constitutional amendment defining marriage as between a man and a woman.
The AP reports: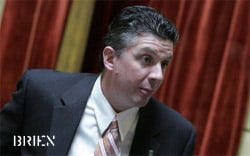 "Brien, a Woonsocket Democrat, says the defintion of marriage should be decided by the people, not by the General Assembly. The bill has slim chances at best."
WPRI adds: "The House Judicial Committee was scheduled to hold a hearing on another same-sex marriage bill Wednesday – but postponed one week due to the weather."
A bill to legalize same-sex marriage was introduced in the House in early January following Governor Lincoln Chafee's calls for marriage equality in his inaugural address.