California Attorney General Kamala Harris filed a motion with the 9th Circuit Court of Appeals today asking it to lift the stay on the federal court order directing California to allow gays to marry.
Wrote Harris in the brief: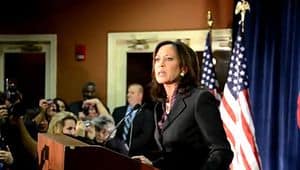 "For 846 days, Proposition 8 has denied equality under the law to gay and lesbian couples. Each and every one of those days, same-sex couples have been denied their right to convene loved ones and friends to celebrate marriages sanctioned and protected by California law. Each one of those days, loved ones have been lost, moments have been missed, and justice has been denied."
Last week, attorneys Ted Olson and David Boies, who are representing the plaintiffs in the federal challenge to Proposition 8, announced that they had filed a motion asking the 9th Circuit Court of Appeals to allow same-sex marriages to resume in California, as well as a petition to the California Supreme Court asking them to further expedite proceedings in that case.
Read the filing HERE (PDF).