A Maryland General Assembly delegate who is the key vote need to advance the marriage equality bill out of the House Judiciary Committee is holding the bill hostage, the Baltimore Sun reports: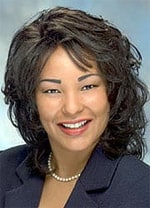 Del. Jill Carter, a Baltimore Democrat, said she is reluctant to vote on legislation that would legalize marriage for same-sex couples until other issues, including a child custody bill and education funding, gain traction in the General Assembly this year.
Carter was one of two delegates supportive of gay marriage who staged a walkout this morning during a specially scheduled vote on the marriage proposal — which has already cleared the Senate and had been expected to make it out of the House committee today.
But Carter said there are "more important, or at least equally important" issues that she would like to see fast-tracked in the way that, in her view, gay marriage has been. And she said that until she hears from House leadership, she does not plan to cast a committee vote in favor of the Civil Marriage Protection Act.
As of an hour ago, Equality Maryland was still urging folks to call delegatesin support of the bill (1-800-492-7122). In particular, I have read that Sam Arora from District 19 is hedging on the vote.
The Sun says it's unclear whether a vote will take place this evening, but Carter is using the moment to gain traction on other issues for her constituents:
Carter said there's no need to "fast-track" gay marriage since the 90-day session is only about half over and lawmakers are in their first year of a four-year term.
She said she is "absolutely" willing to take a hit for withdrawing her support on gay marriage if it makes a larger point about her favored issues.
Other folks tweeting from the House say there will not be a vote tonight and it has not been rescheduled. Apparently still a very fluid situation…