A bill legalizing same-sex civil unions in Delaware advanced in the legislature yesterday, the News Journal reports: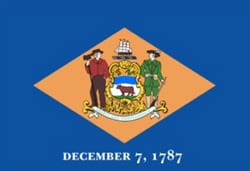 A Senate civil unions bill that would recognize "solemnized" same-sex relationships with the same legal protections and requirements as marriage — was voted out of the state Senate Administrative Services Committee after a two-hour hearing Wednesday.
The bill — S.B. 30 — sponsored by Sen. David Sokola, D-Newark North, with more than two dozen co-sponsors, now goes to the Senate floor for debate.
Committee members heard impassioned testimony from opponents and supporters of the bill, one reading from the Bible, another reading a letter from his son, all saying the state would be significantly changed for the better or the worse. The balcony was packed and so was much of the floor of the Senate chamber.
More than 50 people signed up to offer testimony, but not all were able to speak. Debate was cut off after two hours because the Senate was returning to session. No details were offered about when the full Senate would debate the civil union bill.