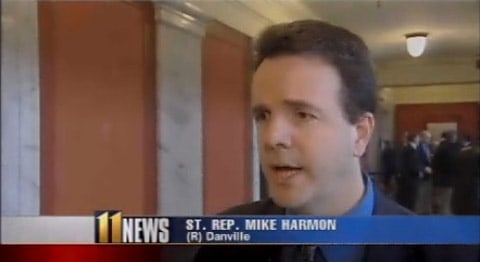 An anti-bullying bill is currently stalled in the Kentucky House. House Bill 370 would prohibit bullying because of a student's sexual orientation, race or religion. A GOP lawmaker has filed an amendment to the bill that would essentially protect bullies if they were hassling kids based on their religious beliefs:
Danville Republican Mike Harmon says rules against bullying are already in place.  Kentucky public schools are required to implement anti-bullying programs and report potential bullying felonies to law enforcement. 
Harmon has filed an amendment that would allow students to condemn other students' sexual preferences as long as that expression of a religious belief does not include physical harm or damaging property.
"If someone, just in conversation, said, 'You know, I think homosexuality is a sin,' well we don't want that child to be bullied because they have a certain moral or religious belief," said Harmon, "And we don't want them, certainly don't want them to be labeled a bully just because they have that particular belief."
Harmon's additions don't stop there: "Harmon has also filed an amendment to the bill that would allow gunowners with concealed weapons permits to carry firearms on public campuses and keep guns in their vehicles on school property."
Watch an interview with Harmon, AFTER THE JUMP…