Maryland Delegate Jill Carter, who last night was holding hostage a vote for marriage equality over issues she felt merited more attention, now says she's ready to cast a vote in favor of marriage equality.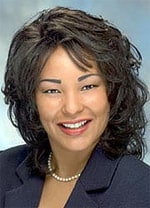 A House Judiciary Committee vote, however, has not yet been rescheduled.
Carter, a Baltimore Democrat, said she skipped the vote because she wants $15 million in funding restored to Baltimore schools and passage of her bill to more evenly divide child custody for divorced parents.
"I was always ready to vote for the bill," she told Collins on Wednesday. "There were some things that I wanted to have discussed and I knew if we took the vote first, they wouldn't be discussed. They were discussed (Tuesday). I was happy. I'm content and ready to vote for the bill."
The Baltimore Sun reports that the bill is in danger because several other lawmakers have begun to reconsider their votes.
Equality Maryland is still urging folks to call delegates in support of the bill (1-800-492-7122).
Meanwhile, NOM is sending out anti-gay mailers. The Washington Blade has a selection.