Maryland Del. Peter Murphy (D-Charles County) has come out of the closet to the Washington Blade: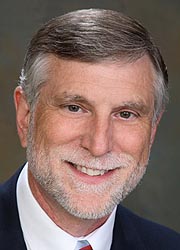 Murphy (D-Charles County), a divorced father of two who also has two grandchildren, said his colleagues and family have known for years that he is gay.
"I have never denied [being gay]," Murphy said, "I just presumed people knew."
Murphy's announcement brings to eight the total number of openly gay and lesbian members of Maryland's legislature, the most of any state in the country. There is one openly gay state senator — Rich Madaleno — and now seven members of the House of Delegates.
Murphy said he's confident the marriage equality bill will pass later this week, possibly in a final vote on Friday.
Murphy said he's not concerned about repercussions over his coming out: "People who know me know that I represent everyone in the district. I work hard to make sure that everyone has a voice and an opportunity to be heard."