Maryland Delegate Tiffany Alston has committed a "yes" vote to Maryland's Equality bill. Alston and Del. Jill Carter were holding out on the bill yesterday.
Wrote Alston in a statement: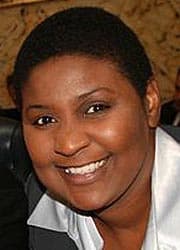 "The same sex marriage debate is a very contentious and controversial issue that cuts to the core of people's religious belief and people's fundamental right to the pursuit of happiness.  From the beginning of my campaign  I have told the people that elected me that I personally supported the same sex couple's right to marry.  I believe all people should be treated equally regardless of their sexual orientation.  I also told my constituents that I would listen to their concerns and take them into consideration.  As such, I have been weighing the diverse and diametrically opposed feedback from my constituents and the citizens of the Great State of Maryland.   
On Tuesday, March 1, 2011, as others members of the committee came forward to express their concerns and reservations,  I too shared my interest in having a little more time to weigh my final decision.  Marriage is not an institution that should not be entered into lightly nor is the decision to create a public policy shift surrounding marriage.  There are several fundamental rights that shape this debate: a fundamental freedom to express yourself; a fundamental right to pursue happiness; and just as important if not more important a fundamental right to religious freedom.  I believe that one person's fundamental right(s) end where another person's right(s) began.  As a law maker it is my duty and privilege to serve the people and try to find balance and equity where inequity exists.  This duty is compounded when your personal religious belief are contrary to what you believe to be fundamentally right for society.
Accordingly, I have resolved that if and when the chairman calls the vote I will be ready to vote based on what I believe to be right.  In time the people of Maryland will also have the opportunity to vote on what they each believe is the correct direction for our State to take.  In the interim I hope and pray that you will all respect my vote although you may not agree with it.  Thank you all for the privilege to serve as your Delegate."
No word yet on Carter's feelings on the bill today. Yesterday she was effectively holding it hostage.