Referring to the three Iowa Supreme Court justices who were ousted for their pro-equality votes as "black robed masters", Michelle Bachmann yesterday praised a conservative group in Des Moines, Iowa for getting rid of them.
Politico reports: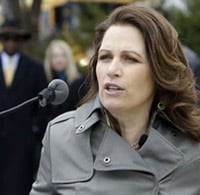 Bachmann, speaking to a group of home school advocates, credited conservatives with sending a "shot across the bow" to judges throughout the country.
"You said enough is enough and sent them packing, and I'm very proud of what you've done," she said, repeatedly calling judges "black-robed masters." "It's very rare that a judge does not go back to office."
Iowans ousted the judges last fall – in what in other years would have been a routine retention election – after the April 2009 Iowa Supreme Court ruling that made Iowa the first state in the Midwest to sanction same-sex marriage. About 54 percent voted "No," booting Chief Justice Marsha Ternus and Justices David Baker and Michael Streit after a massive campaign against them led by Bob Vander Plaats and the Iowa For Freedom group.
Black robed masters?