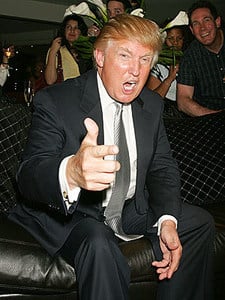 Donald Trump told Greta van Susteren on her talk show last month that though he loves the fact that there are lots of gays and lesbians in New York City, he doesn't love them enough to allow them to get married (or divorced like he's been three times). Recently, the billionaire has been setting his sights on Iowa in what looks to be a long shot bid for the presidency in 2012.
In an article in the Des Moines Register, Trump not only reiterates his feelings opposition on marriage equality but expanded on those thoughts saying that gays and lesbians should not be allowed to have partner benefits.
"Asked whether he supports allowing same-sex couples to marry, Trump said no. Iowa conservatives have overwhelmingly opposed the 2009 Iowa Supreme Court decision overturning the state's ban on gay marriage."
"They should not be able to marry," he said. But asked whether gay couples should be able access the same benefits as married couples, he said his "attitude on it has not been fully formed. Given a second to think, Trump said on marriage and civil benefits, "As of this moment, I would say no and no."