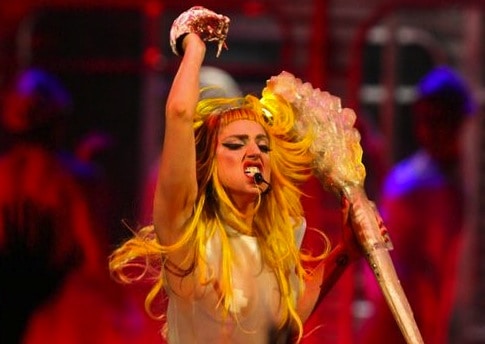 Lady Gaga took to the stage during a tour stop in Buffalo to tell her fans to encourage Republican state Senator Mark Grisanti to support marriage equality in New York state. The Buffalo News reports:
"There's a senator here in Buffalo that's on the fence about whether or not to vote for this particular bill and I would like to give you all his e-mail," Lady Gaga told the crowd in HSBC Arena. "His name is Sen. Mark Grisanti." She urged her fans to e-mail Grisanti and suggested "2,000 e-mails in his BlackBerry this evening or tomorrow" might help sway his position on marriage equality.

Later, she posted this message on her Facebook page: "Buffalo, we need SEN.GRISANTI to help pass NY STATE MARRIAGE BILL e-mail grisanti@nysenate.gov #IWasBornThisWay."
We have yet to see if Gaga's push will sway Grisanti's opinion on the issue but her call out has at least pushed him to respond.
"Lady Gaga is a terrific world renowned performer, entitled to her opinion. That is why our country is so great – because you have the opportunity to have your voice be heard, and reach out to your local representatives.  But Senator Grisanti has already reached out to the local chapter of Outspoken For Equality New York, and is meeting with them next week. Additionally, I have personally met with the Outspoken For Equality New York in Albany, and we had a very informative and constructive conversation. We look forward to learning more about their issues and concerns with regards to Same-Sex Marriage."
Mark Grisantiin has stated in the past says that he is "inalterably opposed to gay marriage."
In other Gaga news, the pop star brought Maria Aragon, the recent 10-year-old Youtube sensation, on stage in Toronto for a "Born This Way" duet. Watch, AFTER THE JUMP.