A discriminatory anti-gay amendment has snuck its way into a bill making its way through the Illinois legislature.
Americablog writes: "A Democratic State Senate, David Koehler from Peoria, is using a bill to aid blind people (it amends the White Cane Law) to sneak through anti-gay legislation."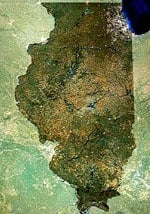 Writes Phil Reece of the amendment's introduction:
I've seen the face of evil, and it is the cunning Illinois GOP. Hidden carefully by Sen David Koehler in SB 1123, a bill to assist the blind - like an arsenic pill hidden in a crême brulé – beneath text allowing for raises for County Clerks, the Conservatives waited until 5pm today, in the 11th hour of this bill before its Wednesday committee vote, to slide in amendments that seek to do everything possible to tear apart the lives of LGBT people in Illinois.
The amendment, which would allow religious organizations that receive public funding to discriminate against LGBT families in the adoption process, is attached to a seemingly innocuous bill supporting the state's blind community.  The amendment would exempt adoption agencies from the Illinois Human Rights Act, a law that prevents discrimination based on race, religion, disability, gender identity and sexual orientation.  The amendment would also allow religious adoption agencies to refuse to place children with opposite-sex couples who have a civil union.
The switchboard for the  Illinois senate is 217-782-3944. Ask for your senator and tell them to 'Vote No on Senator Koehler's Amendment 1 to SB 1123'.