The anti-gay amendment seen as a direct attack on Illinois' civil union law was killed in committee yesterday, which is excellent news. I mentioned this briefly yesterday in an update to my post on the legislation but here's more from the Kane County Chronicle: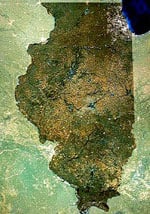 A Senate committee pulled the brakes Wednesday on Koehler's amendment to the act, which would have allowed faith-based child welfare agencies to block gay couples from adopting or fostering children. The vote was 7-6.
Disappointed with the committee's decision, Sen. William Haine, D-Alton, considered the plan a "reasonable" application of the law. "It doesn't refer to anyone's sexual preference at all. It's a bill that's designed to respect the rights, which are guaranteed by the First Amendment … and the custom and tradition of the United States, to respect profoundly held, long-standing religious beliefs," Haine said.
Faith-based agencies account for about 3,000 of the 16,000 children in the foster care system, said Bob Gilligan, executive director of the Catholic Conference of Illinois. The Catholic Conference of Illinois is the political policy voice of the Catholic Church in Illinois, according to its website.
If passed, the plan would have allowed religious organizations to refer gay couples to other child services organizations, including the state's Department of Children and Family Services.
Good riddance. Illinois' civil union law goes into effect in June.