Banksy's graffiti art piece titled "Gay Bobbies," which depicts two kissing policemen, is expected to go for over $1.6 million at auction in New York City. The painting was originally created on the side of a pub in the United Kingdom called Prince Albert and has been targeted by vandals over the last few years.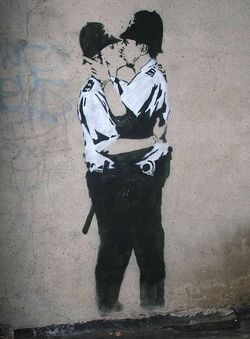 "…the Prince Albert is set to benefit from the guerilla artist's popularity, with the painting of the gay policemen predicted to sell for up to £1million. Chris Steward explained: 'When he put it on the pub it belonged to the pub and, if it is sold, all the money will go back to the pub. 'It is very difficult to just keep the pub going, so a little break from that would be very welcome.' As well as plenty of attention from admirers, the work also attracted attention of a different kind. Within weeks of the work going up two men were caught on CCTV daubing the image with black paint and were fined £40 for criminal damage, but soon after it was targeted again. After repeated attacks, Steward decided that to preserve the image it had to be removed."
"In 2008 a specialist art restoration company used chemicals to transfer the image onto a canvas, and the original was replaced with a facsimile, encased in perspex."