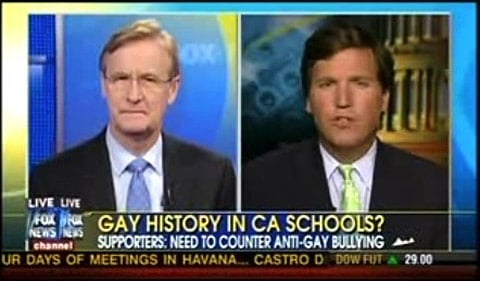 Tucker Carlson appeared on FOX & Friends and called the California LGBT education bill in which students would be taught LGBT history "frivolous" and said "it's propaganda, it's lying."
The bill, as the AP notes, is an effort "to counter anti-gay stereotypes and beliefs that make children in those groups vulnerable to bullying and suicide."
Says Carlson: "Whenever a school is mandated by law to teach 'happy news' – non-controversial, complimentary facts about a group of people  - they are by definition excluding the unhappy facts, and therefore, lying. That's propaganda."
The Fair Education Act, as the bill is called, passed the California Senate on a party line vote of 23-14 last week.
Watch, AFTER THE JUMP…