During a speech for the conservative right-wing, anti-gay group The Family Leader at a Christian high school in Pella, Iowa, Michele Bachmann called Planned Parenthood the "LensCrafters of big abortion" and slammed same-sex marriage, reiterating her support for the anti-gay campaign that ousted three pro-equality Supreme Court judges last November.
She later took her speech to the University of Iowa. Listen to audio (via Good as You) from the U of Iowa speech, AFTER THE JUMP…
Politico reports on the Pella speech: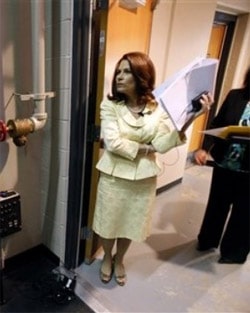 Comfortably quoting from scripture, the Minnesota congresswoman said it was her faith that drove her to push for a ballot measure to criminalize same-sex marriage in the state — something she said might be possible this year because both state legislative houses are held by Republicans.
"In 5,000 years of recorded human history… neither in the east or in the west… has any society ever defined marriage as anything other than between men and women," Bachmann said during the latest installment of the Iowa Family Leader's presidential lecture series. "Not one in 5000 years of recorded human history. That's an astounding fact and it isn't until the last 12 years or so that we have seen for the first time in recorded human history marriage defined as anything other than between men and between women."
Bachmann also repeated language she used in March, referring to the Supreme Court judges as "black-robed masters".
"That's what you had here in Iowa: black-robed masters," Bachmann said. "They are not our masters. They are not our morality. They are not put there to make the decisions."
The Press-Citizen reports that Bachmann was heckled on a separate visit to the University of Iowa:
The Minnesota congresswoman asked the hecklers, who were UI students, including one with a sign that said "Desensitized homosexual: I am better at what I do because I am gay," to wait to speak until a question-and-answer period. The predominantly supportive audience of about 200 applauded.
Soon, Bachmann, who has not yet indicated if she will run for president, took a question before aides escorted two protesters out.
"How much oil do you want?" said Jenny Watkins, 22, a UI senior who also raised questions about the rape of women and took issue with Bachmann's stance against homosexuality.
Bachmann, who also spoke Monday in Pella, responded in stride that, "I want a lot more oil than we have now. The only difference is I don't want it to be coming from the Middle East. I want it to be coming from (American soil)."
Listen to audio (via Good as You) from the U of Iowa speech, AFTER THE JUMP…