The House Judiciary Committee has posted notice of an upcoming hearing entitled "Defending Marriage" set for April 15, the Washington Blade notes: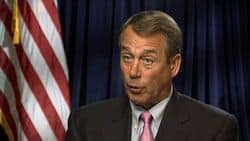 As of Friday, no witness list was posted on the committee website, nor was the intent the hearing immediately known. Whether the likely impending shutdown of the federal government would cancel or postpone the hearing also wasn't immediately clear.
Charlotte Sellmyer, a House Judiciary Committee spokesperson, said more information would be available next week.
"Per our office policy, we release background and witness information one day prior to the hearing, so please check back in with us next week," Sellmyer said.
When asked recently, House Speaker John Boehner told reporters he had no clue what legal defense of DOMA would cost: 
"I do not have an estimate. But we were placed in a position where we were in effect allowing the administration to determine the constitutionality of a bill that passed the United States Congress because they were unwilling to defend it. I don't think the House had any choice but to take the position that we were going to defend the work that the Congress — and only the courts are in the position of determining the constitutionality of any bill."