Judge Vaughn Walker, who struck down California's ban on same-sex marriage, spoke to reporters today and came out publicly for the first time.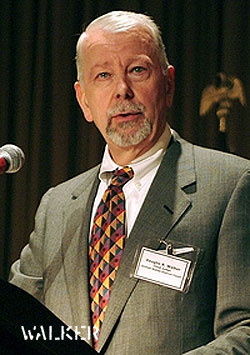 Reuters:
The talk to a handful of reporters was Walker's first public comments to reporters about presiding over the lawsuit challenging to Proposition 8, which banned gay marriage in California. Walker struck down the ban as unconstitutional, and the case is currently on appeal.
It was also the first time Walker publicly acknowledged his own sexual orientation. Walker said he has been in a relationship with (a) man for 10 years. "He is a physician," Walker said.
Walker also said he would never think of recusing himself from a case over his sexuality:
Walker, who retired from the bench at the end of February, said it would not be appropriate for any judge's sexual orientation, ethnicity, national origin or gender to stop them from presiding over a case.
"That's a very slippery slope," Walker said.
Walker is returning to private practice, Business Wire adds:
The Honorable Vaughn R. Walker, former chief judge of the United States District Court for the Northern District of California, announced today that he has opened a law practice focusing on dispute management and resolution. This includes alternative dispute resolution (ADR) as well as counseling clients with respect to litigation risks, especially in protracted and complex litigation.
Previously…
Prop 8 Trial Judge is Gay, and Media is Finally Talking About it [tr]