Chief U.S. District Judge James Ware (pictured) has fast-tracked a hearing prompted by a motion from proponents of Proposition 8 over the fact that Judge Vaughn Walker, who overturned California's ban on same-sex marriage, is in a relationship with a man.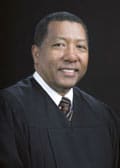 The AP reports that the hearing has been set for June 13:
Lawyers for the sponsors of the voter-approved ban asked Ware to vacate Walker's August 2010 decision overturning the ban as a violation of gay Californians' civil rights.
Backers of Proposition 8 said Walker should have recused himself or disclosed his relationship status before trial to avoid the appearance of a conflict of interest.
In related news,the 9th Circuit Court of Appeals has referred the question of unsealing videos of the trial back to Judge Ware:
The 9th U.S. Circuit Court of Appeals ordered U.S. District Judge James Ware to consider competing bids by Proposition 8 sponsors to keep the video under wraps and by the measure's opponents to unseal it.
A three-judge panel of the appeals court said the trial judge "has the power to grant the parties all the relief they seek, should relief be warranted" on either side.
Ware was assigned the case after Walker retired in February. SFist noted:
While little is known about Ware's attitude regarding LGBTs and civil rights, there is this case from Morgan Hill, where he ruled that students have a right to sue their school district for homophobic harassment. (The case was eventually settled.)